Setting up Autolaunch
Famoco Auto Launch gives you the opportunity to dedicate your device to a specific use.
With this setting activated, the device will launch the chosen application directly when the device is turned on. It will run in kiosk mode with no other application accessible.
This can be configured at an MDM level, but it is also possible to do it through the device when it is in Developer Mode.
To activate auto launch through the device
Click on the Famoco Dashboard and go to Device Information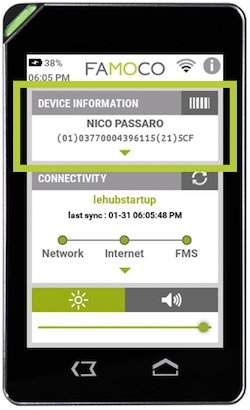 Scroll down to Auto Launch

Toggle Auto Launch ok and choose the application that you'd like to dedicate your device to.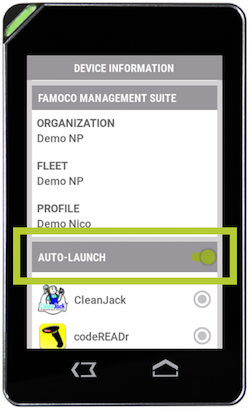 The application will automatically launch in kiosk mode.
How to disable auto launch through the device
Hold the Volume up until the Famoco Dashboard appears

Go to Device Information

Scroll down to Auto Launch

Toggle Auto Launch off

You will be taken to the Home screen with the list of applications