Device Dashboard
When the device is turned on, you can access the dashboard by pressing the volume + button for at least 3 seconds.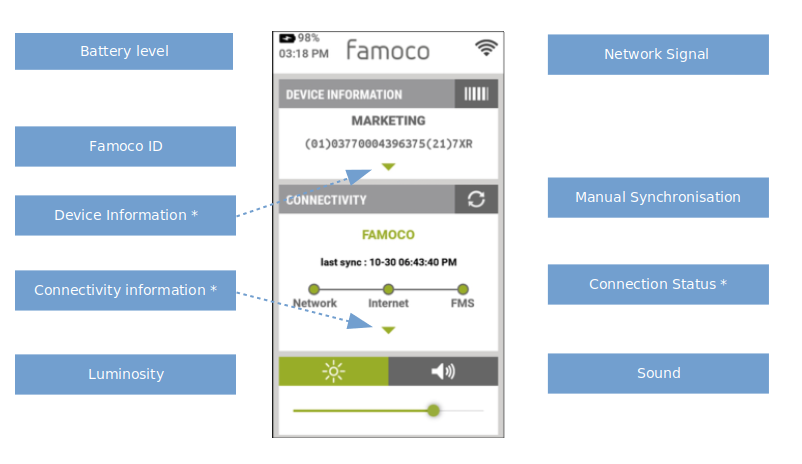 "Connection status" : The dots indicate the 3 different connection status
    - Network: Is the device connected to a network?
    - Internet: Is this network connected to internet?
    - FMS: Is the device able to synchronize?

"Device information" contains:
    - The device infos:
        - Famoco ID
        - OS version

    - The MDM Infos (as soon as the device has synced):
        - MDM organization
        - MDM Fleet
        - MDM Profile
        - The application selected as autolaunch

"Connectivity information" contains:
- The Synchronization information:
    - Last synchronization : Updated only if a Sync was successful
    - Synchronization status : Indicates if the last sync was successful
    - Next Synchronization : Indicates the date of the next sync

- The connectivity configuration show the settings of each connection
    - Wifi
    - Mobile Data
    - NFC
    - Bluetooth
    - Location
    - Auto Time Zone

These settings can be toggled directly on the device if the developer mode has been activated on the MDM profile.